Todd Atlas & Chris Boerner
As Duke alum Todd Atlas's career shows, big opportunities can come from big compromises--and great passion.
While pursuing his Music major with gusto, Atlas was obligated to fulfill other career aspirations. Chuckling, Atlas explains that "as an undergrad I really wanted to do music, but my father, as part of our him-paying-for-college deal, insisted on some sort of 'real' major, too..." Honoring their agreement, Atlas completed a double major in Music and Economics at Duke in 2001 along with summer stints with the London School of Economics and Aspen Music Festival.
Three Duke degrees and nearly a decade later, Atlas recently opened a new business venture in the heart of Durham--a combination recording studio and specialty guitar boutique with the professional audio equipment sales and distribution business he began as a Duke undergrad. During his freshman year, Atlas began recording campus events and concerts as a free-lance recording engineer. As that business grew, the young entrepreneur sought out ways to improve the quality of his recordings by investing in high end microphones and recording equipment--by 1999 he complemented his engineering enterprise with on-line equipment sales using profits he re-invested into the business: "I wired my life savings, started importing Neumann microphones and putting them on e-Bay back in its infancy...it was a way for me to have a supplemental business, but also acquire a lot of the equipment for myself..."
Eventually Atlas found he could serve a broadening client base with consulting services. He recounts that "I knew the microphones really, really well, and it turned out that people that needed microphone advice also needed pre-amplifier advice, also needed to know what kind of headphones and studio monitors they needed..." Atlas continued to re-invest, explore additional product lines, and grew a complete, self-sustaining professional audio equipment sales and consultancy company. Having completed the joint JD/MBA degree at Duke Law and Fuqua School of Business in 2008, Atlas carries his years of experience and broad knowledge base into his new venture, Sound Pure LLC. Looking to redevelop a Durham property, Atlas invested in building his dream recording facility.​
In the process, he connected with fellow Duke Music alum Chris Boerner, soliciting the guitarist's expertise in representing the wares of specialty guitar-makers. While planning the recording facilities, Atlas noted that the building he selected "has wonderfully thick old walls, which was ideal for a studio...and it had substantially more square footage than we needed, so I brought the idea to Chris to see what he thought about a guitar boutique...We did a lot of research on what we thought would be the best core to focus on, and kind of got off to the races about two and a half years ago..."
Today Sound Pure's guitar collection is brimming with one-of-a-kind instruments and custom pieces, works from builders "who are as much artists as they are guitar builders..." According to Atlas, other guitar shops are not stocking guitar inventories "quite as deep or elaborate as we are...we're into arch-top traditional jazz guitars, amazing one-of-a-kind electric guitars as well as flat top acoustics and of course all the corresponding amplifiers for all of those..."
Interestingly, the duo's research into the guitar boutique business showed that several master builders resided within the state of North Carolina. Atlas recounts that "we didn't embark on a plan to represent anything local. It was sort of a surprise to us when we were looking across the best reputed lines, who's really doing the best work in flat tops, in jazz arch tops, in electric solid body guitars, and it was shocking how many people were doing things really close by..." The proximity to their craftsman-partners facilitates building excellent relationships with each of them. Boerner emphasizes that it's rewarding "to get to know the builders and the personalities behind the guitars on the wall...That's been one of the coolest parts for me..."​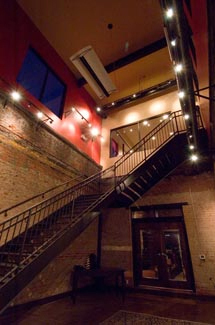 According to Atlas and Boerner, merging the recording and guitar sales businesses is a consciously crafted strategic advantage that draws from their unique skill sets as well as their brand new, 8,000 square foot facilities: "We wanted to create what no one had done before, which was a crossover between the guitar business and the recording business. A lot of guitarists have shops they can go to, but those [guitar] shops don't know anything about recording. A lot of studios need guitars and need amplifiers, but their people don't know anything about that. So they all have to go to two different places, and then it becomes their job to integrate guitars with recording. So we're trying to bridge that gap..."
A unique feature of their recording facilities and services resides in the large number of outboard pre-amplifiers available to musicians working in the Sound Pure studios. The equipment options multiply the range of sounds musicians can draw from a single instrument. According to Atlas, that makes the Sound Pure studio "a blank canvas with this wide palette of possibilities...we have all the analog equipment to give the flavors of the week from famous consoles and sound points of view, an individual microphone hooked up to an individual amplifier, a very distinctive sound to whatever the best possibility is..." Boerner adds that their equipment options helps make Sound Pure more than "just another guitar shop...[musicians] love having all these options--it's like ear candy to them. Most places with one console, they might have a couple of outboard pre-amps, but they don't have this sonic palette of different things that work better with different applications..."
In planning the recording studio's design, Atlas consulted with a microphone producer who Sound Pure already represents for equipment sales. Atlas was in the process of exploring rough sawn lumber as a cosmetic complement to the old building--as he explains, constructing wall surfaces with rough sawn lumber as slats offset slightly from the walls helps get soft reflections back into the room, and allows absorption to take place behind the slats. Upon touring another studio with a similar design, Atlas fell in love with the room: "just walking around, clapping, talking, hearing the consistency, the tightness, the pop, I was really excited about it right away..." Atlas sees the design of Sound Pure's studio as reflecting the next stage in studio design. Selecting rough sawn wood to reflect sound vibrations softly, along with the building's original 13-inch-thick walls and other acoustic design elements, Atlas wanted recording spaces "with some life to them so the musicians actually like to work in them. It makes engineers' lives easy to record in a dead room then add some artificial room sound to it, but musicians don't actually feel like they're themselves in the room...Here they can hear themselves, their ensemble so well..."​
Along with two B studios for intimate recording sessions and additional post-production space, Sound Pure's facilities offer a larger lobby as space for musicians to relax when they're not recording. With that space Atlas has sites on future events like audio training sessions, meet-the-builders events, or intimate concert receptions. Atlas envisions that the lobby provides a live room big enough to host small events, where "we can hold performances in the recording studio and people on the other side of the glass are talking about recording or EQ-ing [equalizing] techniques while there's a performance in progress. We see a lot of ways of crossing boundaries in ways people haven't done before."
Atlas and Boerner plan Sound Pure's formal grand opening in the first half of 2009 as a tribute to the tenth anniversary of Todd's original recording and audio sales business. For Atlas, Sound Pure represents his vision for bringing his interests and passions together with ventures he saw as financially viable--and he credits the variety and flexibility available in his dual majors at Duke. Atlas explains that "I was serious about both, and I did both...The plan was always to be in entrepreneurship, be in business, and expand into the music business...I was more serious about music because I loved it more, and the idea of making money in music was more difficult for me, but when I got into recording--and I liked it, I liked it a lot--it was my way of being self-sufficient right out of undergrad."